Using a GoDaddy Domain in Awardspace
Long ago, we bought informatics-tech.com from GoDaddy. At that time, our site was hosted on Weebly, which provided an easy tutorial on how to set up your domain so that you can use it with Weebly. When we moved over to a new host (Awardspace), we found out that they didn't have such a for their services. We really wanted to use Awardspace so we had to figure it out by ourselves. Being internet newbies at the time, this was a somewhat painfull task. To spare you the trouble, we wrote this article outlining how to use your domain with Awardspace
How to Accomplish this: Changing the Nameservers
Changin the nameserver will actually give awardspace full control over the domain. You can still renew/edit the domain through GoDaddy, but all the records will now be stored at Awardspace. Ok, so to do this, log into your Awardspace account, and click the "Website Manager" tab. Next, select the "Domain Manager" icon (first one at the top).

Now, type in a domain in the textbox, and click the "Add Domain" button.

Notice that the domain is now added under "Domain names hosted in your account". There's also tons of information concerning the domain, such as the path, the Nameservers (NS), that you will need, the Mail Exchanger (MX) records, etc. So keep this page open, and go to your GoDaddy account in a new window.
Once you're logged into GoDaddy, you'll need to go to your Domain Manager, Then click on the domain you wish to use.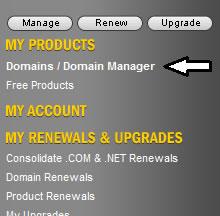 In the toolbar, click the "Nameservers" Icon, and select "Set nameservers". Type in the nameservers provided by Awardspace, as such:

Click OK, and that's it! Awardspace will take care of setting up the A and MX records to point to their services. If you wish to use other products, such as Google Apps, you will need to edit the DNS records from within Awardspace, but that as I know, that requires a paid account...