Agama M500G Gaming Mouse Review
Gaming on a stock DELL or HP mouse is not always the best thing to do. First of all, these mice aren't always very durable, and excessive clicking (or throwing) may result
in it dying after just a few months, even weeks of use. Fortunately gamer-proof mice
do exist, and are called, logically enough: gaming mice. These are more resistant, have a higher DPI (dots per inch), and generally have more buttons than our typical rodents. The only problem with most of these mice is their price. From the Razer Lachesis (55$) to the Razer Copperhead (175$), they don't come in as cheap. This is were the Agama M500G comes in.
Rating: 9.0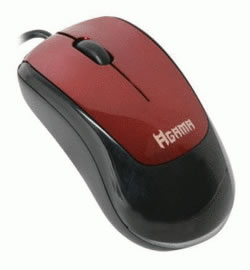 Details
| | |
| --- | --- |
| | Left-click, Right-click and scroll wheel. |
| | Three million clicks. |
| | Wired, USB. |
| | 1.8 meters. |
| | Ambidextrous (suitable for both hands). |
| | 20G. |
| | 68 inches per second. |
| | Available USB Port. |
| Requirements for drivers: | Windows 7/Vista/XP/2000 or Macintosh with OS X10.2.8 or later. |
| | Can change between 800 DPI and 1600 DPI. |
| | Blue fluorescent light. |
The Good
Inexpensive.

Durable.

Added weight.

Great sensitivity.

Very aesthetic, especially with the blue LED.

Works on just about any surface.
The Bad
Plastic molded unequally between left and right buttons (right button more elevated).

No button to change DPI settings, you must use the provided drivers.

Drivers don't work on Linux.

Slightly too small.
Conclusion
Overall a very good mouse. It performs well in Gaming, and the added weight is a nice touch. Feels durable, and is very beautiful. If you want a simple gaming mouse that will last for long, but doesn't have a million buttons, then the AGAMA M-500G is for you. Do note that this mouse is not the most carefully crafted on the market, and has an overall crude, but very efficient design. We liked it a lot, and for this price, you can't expect better, lets hope it lasts as long as our Microsoft Wheel Mouse Optical (8 years and still working).